Mission 16 (MISSION: 16, Misshon: 16?) is the sixteenth chapter of the SPY x FAMILY manga, written and illustrated by Tatsuya Endo. It was released on November 18, 2019.[1]
Summary
Loid Forger looks over Anya Forger's tests and sees that they're all failing grades. He calls out to her but she tells him she's busy because she's watching Spy Wars. He decides to pick her up and carry her away from the TV so they can go to study as they promised at 5 o'clock. They begin studying and Loid scolds her for being unable to spell correctly. Yor Forger joins them, takes a look at Anya's test, and compliments her for her score being not bad despite still being a failing grade.
Loid, believing she did that well because of her cartoons, tries to help her learn idioms by referencing idioms used in Spy Wars. Anya, however, only had difficulty with the idioms test because she read another student's mind who also did poorly. She plans in the future to learn who is the best at each subject so she can read their mind for tests.
Meanwhile, Loid considers having her grades changed in the school's records but realizes that would be suspicious if she didn't also have some real improvement as well. He also believes that if he does that, her classmates will resent her for her unearned accomplishments. Anya reads his mind and contemplates whether it's a good idea or not for her to cheat by reading her classmates' minds. Loid decides maybe he's being too strict with studying and decides instead to have her switch to doing some drawing.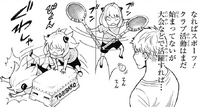 She tries drawing a cow but it turns out poorly so Loid gives up on her drawing skills. He tries to get her to do music and sports as well but she fails horribly at both of them. Yor instead gives Anya a jumping rope to try playing with. While she does this, Loid contemplates his mission and the hopes that the organization has of her getting 8 Stella Stars in 4 months. While he contemplates this, Anya gets herself tangled up in the jump rope. She tells him she's going to work really hard before asking him to untangle her. After untangling her, Loid asks if she'll go with somewhere tomorrow and she agrees.
The next day, they go to the hospital to do some community service in hopes to earn her a Stella Star that way. Through his intel, Loid knows that outside of academic achievement, Stellas can be awarded for long-term community service and heroic acts like life-saving and police assistance. The nurses assign Loid and Anya to start by cleaning the locker room by the pool. Anya ends up breaking 2 flower pots while cleaning so the nurses decide to reassign her to tidying the books in the library. Instead of cleaning though, she ends up just reading manga. Anya tells them she's tired of cleaning and runs off to find a surgery room so she can assist a doctor by handing them tools.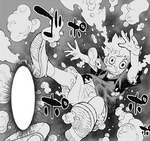 A nurse yells at the two of them and tells them they are excused from service. They dejectedly begin to leave the hospital with Loid realizing she won't be able to get a Stella Star this way. Ken, a patient at the hospital, passes by them in the hallway and heads to the pool. He reaches his hand in the pool to check the temperature but ends up falling in. His mother looks around for him but doesn't see him and assumes he's still changing. Ken, unable to swim, begins to drown in the pool. Anya hears his cries for help through her telepathy and is about to tell Loid about it but realizes he won't believe her.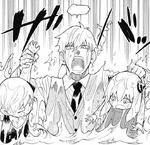 Instead, she rushes off the pool herself and passes by Ken's mother who tries to stop her. She frantically looks around for where Ken is before hearing more cries for help and diving into the pool after him. Anya is unable to swim as well, but she grabs hold of Ken's hand. Loid dives into the pool as well and saves both of them. Ken's mother is shocked because she didn't know he was in there and the people around the pool are shocked as well as they heard nothing. Loid tells them that's how children usually drown as it makes little sound so it's best to keep your eyes on kids around a pool. Loid praises her and Ken's mother gives her thanks for coming to Ken's rescue.
The next day of school, Anya is awarded a Stella Star for saving Ken's life. Becky Blackbell congratulates her for getting the first Stella Star in the grade while Damian Desmond scoffs at her for getting one before him. Yor gives Anya a hug and Loid pats her on the head because he's very proud of her. Anya realizes that she can use her powers to help people and gets very happy. Yor proclaims that she's going to make a special dinner but Anya rejects the idea because she doesn't want Yor's bad cooking.
Characters
Trivia
References